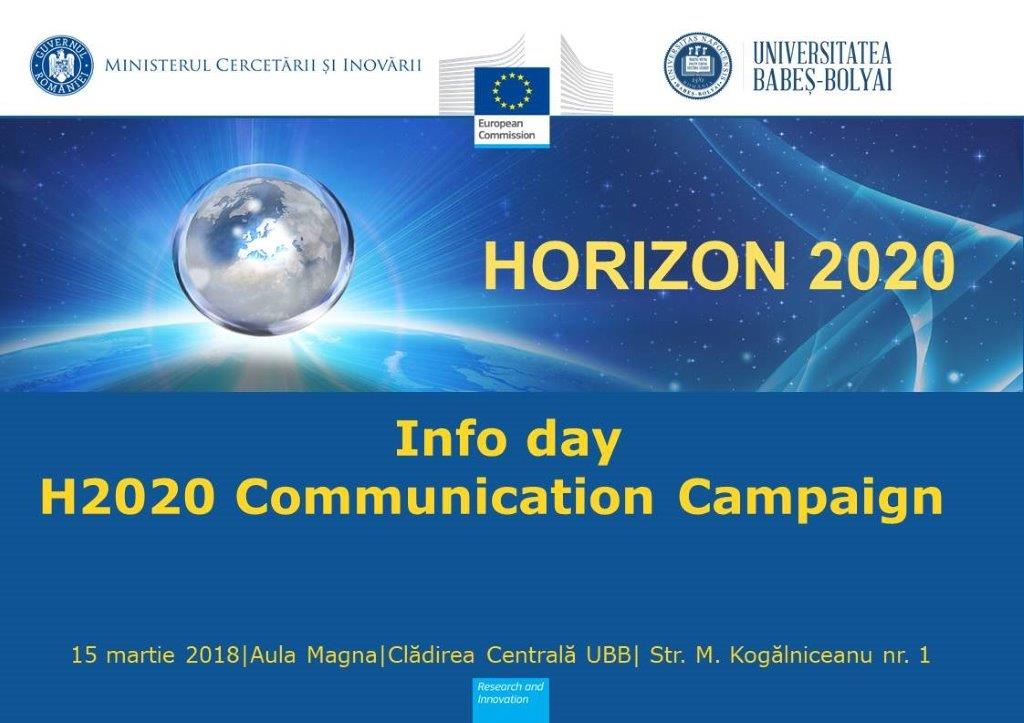 Ministerul Cercetării și Inovării în colaborare cu Comisia Europeană și Universitatea Babeș-Bolyai, prin Institutul STAR-UBB, vă invită în data de 15 martie 2018 la campania lansată de Comisia Europeană cu titlul "H2020 Communication Campaign".
Obiectivul campaniei este de a explica aspectele-cheie privind normele financiare și legale aplicabile programului Orizont 2020 în contextul revizuirii acordului general de grant dar și de a discuta particularitățile naționale. Campania oferă o oportunitate excelentă pentru participanți de a face schimb de bune practici privind gestionarea financiară a proiectelor Orizont 2020.
Prezentările vor fi susținute în limba engleză. (Traducerea nu va fi furnizată)
Programul evenimentului este următorul:
9:00 – 9:30
Registration 
9:30 – 9:45
Welcome and introduction
 
Acad Prof Ioan-Aurel Pop, Rector / Prof Daniel David, Vice-Rector,"Babeș-Bolyai" University

Cristina Anania, H2020 L&F NCP, Ministry of Research and Innovation

9:45 – 10:15

 

 EC introduction – Purpose of Communication Campaign (30')
Ms Carmen Madrigal Jimenez, lawyer, RTD.J1 – Common Legal Support Service

Mr George Bancos, auditor, Unit DG RTD.J2 Common Audit Service

10:15 – 10:30

 H2020 model Grant Agreements Introduction (15')
Structure

Forms of costs

Budget transfers

10:30 – 10:45

 Types of staff contracts (15')
Employees VS other staff

What contract under what budget category

10:45 – 11:15

 Coffee break (30')

11:15 – 12:45

 Personnel cost calculation (1.30')
Time-recording requirements

Actual personnel cost vs unit costs

How to calculate actual personnel costs: annual vs monthly rates

Options for annual productive hours

12:45 –13:45
Lunch break (1h)

13:45 –14:30

 Additional remuneration (45')
Definition

Basic remuneration vs additional remuneration

Additional remuneration ceiling

14:30 –15:00

 Direct costs (30')
Identification and measurement

Eligibility Conditions

15:00 –15:30
Coffee break (30')
15:30 –16:00
 Third parties (30')
Types of third parties: classifications and characteristics

16:00 –16:30

 Subcontracting (30')
Subcontracts Vs Contracts

Characteristics and eligibility conditions

Conflict of interests and best value for money

16:30 –16:45

 Synergies with other grant (15')
Basic principles

Concept of "cost item"

16:45 –17:30
Questions and conclusions (45')
Pentru o bună organizare a evenimentului, vă rugăm să confirmați participarea dumneavoastră pe pagina de înregistrări:  http://events.ancs.ro/event.php?id=67.