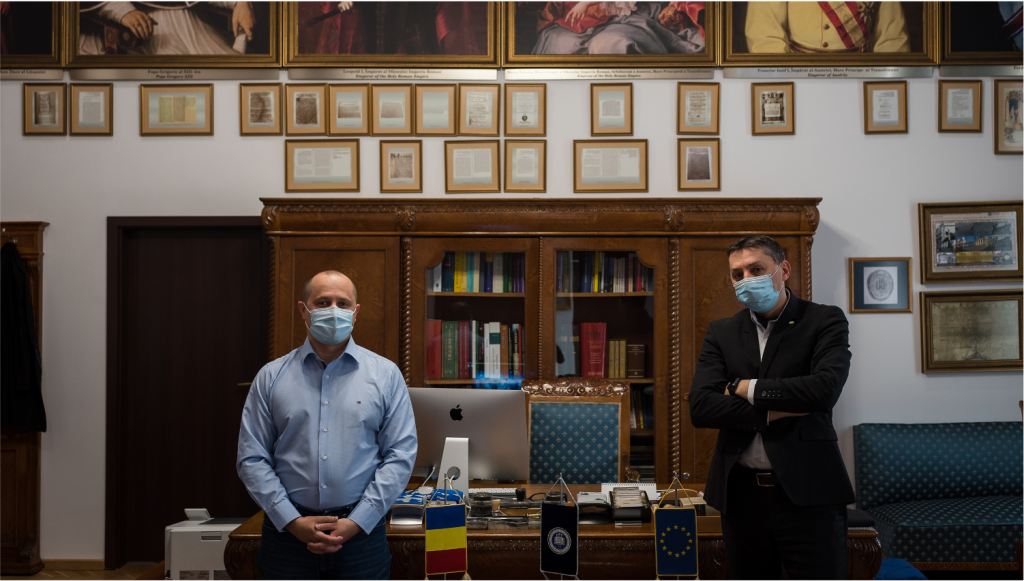 On 10th March 2021, the rector of Babeș-Bolyai University of Cluj-Napoca (UBB), prof. Daniel David, and Raul Mureșan, Ph.D., the president of the Transylvanian Institute of Neuroscience (TINS), have signed an academic strategic alliance.
UBB is open to quality academic localisation that brings value for partners and for the city/country. The Transylvanian Institute of Neuroscience (TINS) is a group of top national and international researchers who are already contributing to placing Romania on the map of science in the field. By drawing a strategic coordination, UBB (mainly through its Academic School of Health – in clinical cognitive neurosciences, and the Academic School of Engineering/Technology – in artificial intelligence) and TINS will open their scientific infrastructures to mutual cooperation, to insure the mobility of researchers among the two institutions (including by introducing a double affiliation), and will also jointly coordinate educational programmes (i.e., a graduate programme is already under way); the two institutions will collaborate in research programmes and in their relationship with society. There is already a tight collaboration between UBB and TINS – some TINS researchers are colleagues from or alumni of UBB, but I hope that, within this new framework, such collaborations will become better coordinated and stronger, the UBB rector declared.
Also, Raul Mureșan, Ph.D., the president of the Transylvanian Institute of Neuroscience said that TINS is making a significant step towards consolidating its academic position by signing this strategic collaboration with UBB. Innovative research cannot be achieved without an adequate human resource and this necessarily implies a strong collaboration with top academic institutions, such as UBB. The model of collaboration between the research institutes and universities is successfully being applied throughout Europe; a particular case is Germany, where the Max Planck institutes, perhaps the strongest European research entities, but which cannot grant academic titles, are in tight collaboration with German universities, thus getting involved in joint doctoral programmes (IMPRS), exchange of human resources, joint educational and research programmes etc. By applying this good practice in Romania, the UBB-TINS strategic collaboration will benefit both institutions, and their complementarity will soon lead to efficient top results. The concentration of resources into thematic fields, such as neurosciences and artificial intelligence, is the best guarantee for international competitiveness. Also, this partnership could and should become a model for similar national initiatives.
The Transylvanian Institute of Neuroscience (TINS – https://tins.ro/), is a private research institute, founded by researchers in the field of neurosciences. Its main mission is to advance research in neuroscience by studying the dynamics of neuronal circuits in the healthy brain as in the sick brain. TINS is also focused on doing research in cognitive sciences and artificial intelligence of biological inspiration. Presently, the institute has several research labs and an exceptional experimental and computational infrastructure. TINS is the organiser of the prestigious international summer school Transylvanian Experimental Neuroscience Summer School (TENSS – https://tenss.ro).