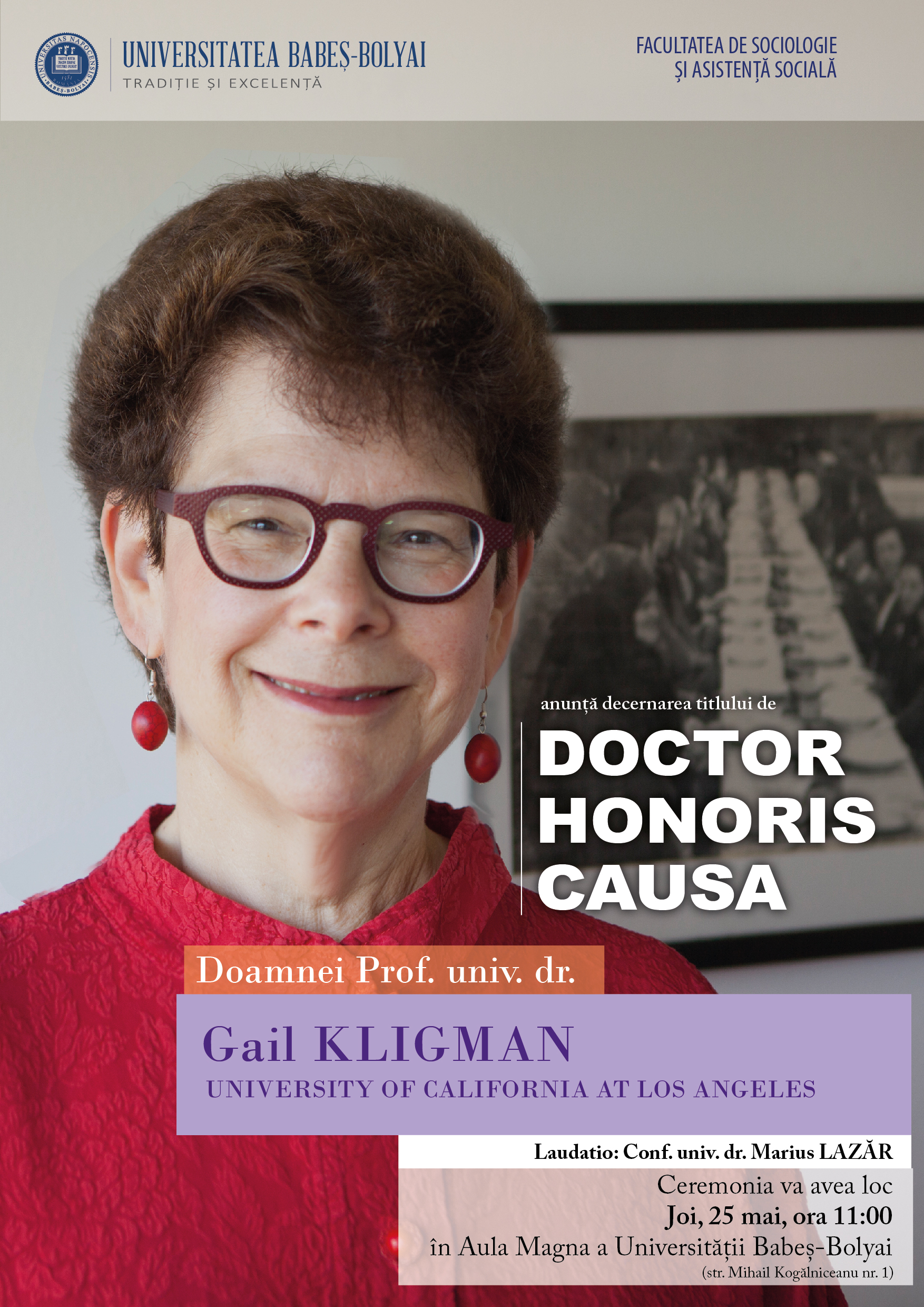 Dr. Gail Kligman, profesor universitar la Departamentul de Sociologie al Universităţii din California at Los Angeles (UCLA) şi Associate Vice-Provost la International Institute din cadrul aceleaşi universităţi, a avut de-a lungul ultimelor decenii o contribuție deosebită la cercetarea realităţilor sociale din România, dar şi în consolidarea sociologiei şi a antropologiei sociale ca programe academice ale universităţii noastre.
Cărţile pe care le-a publicat despre politicile pronataliste coercitive şi duplicitare ale regimului ceauşist, despre complexitatea culturii tradiţionale rurale din Maramureş, văzute printr-o prismă a cercetării antropologice, despre persistenţa problemei agrare şi relaţiile de proprietate în România  – constituie volume de referinţă pentru sociologie, istorie socială, antropologie, etnologie, atât din punct de vedere al demersului metodologic exemplar, cât şi al reliefării originale ale unor realităţi sociale importante şi interpretarea acestora prin lentila teoretică a analistului social.
Doamna profesor dr. Kligman este legată în mod particular de școala de sociologie a universității noastre, pe care a vizitat-o în diverse momente de-a lungul carierei sale, atât în perioada comunistă, în calitate de bursieră a programului International Research and Exchanges Board (IREX) 1975-76, când secția de sociologie funcționa ca o specializare în cadrul filosofiei, cât și în perioada sa de dezvoltare din noul mileniu. Astfel, doamna profesor a fost, alături de doamna profesor Katherine Verdery, unul dintre profesorii consultanți în cadrul programului internațional "Teaching Anthropology: Means and Meanings", desfășurat la facultatea noastră între 2003-2006 cu susținerea financiară a Higher Education Suport Program, Open Society Institute, program care a format specialiști tineri în antropologie socială din Europa Centrală și de Est, care au ajuns apoi profesioniști recunoscuți în domeniu.
Dintre universitățile de prestigiu internațional unde a predat, amintim (în ordine cronologică inversă): the University of California at Los Angeles (UCLA), the University of Chicago, the University of California at Berkeley, University of Texas at Austin, Stanford University, și Georgetown University.
De-a lungul carierei, a câștigat numeroase granturi de cercetare de la instituții prestigioase precum: the US National Science Foundation, the US National Endowment for the Humanities, the American Council of Learned Societies, the Woodrow Wilson Center for International Scholars, the MacArthur Foundation, the Soros Foundation, și, printre altele, the Russell Sage Foundation.
Principalele premii profesionale obținute pentru contribuția ei științifică:
Barbara Jelavich Best Book Prize, Association for Slavic, East European, and Eurasian Studies
Davis Center Outstanding Monograph in Political and Social Studies, Association for Slavic, East European, and Eurasian Studies
Heldt Prize, Association for Women in Slavic Studies; Honorable Mention
Wayne S. Vucinich Most Important Contribution Prize, Association for Slavic, East European, and Eurasian Studies; Honorable Mention
Barrington Moore Best Book Award in Comparative-Historical Sociology, the American Sociology Association; Honorable Mention
Best Book Award, Political Sociology Section, the American Sociology Association.
Heldt Prize, Association for Women in Slavic Studies
Heldt  Prize, American Association for the Advancement of Slavic Studies (best book in women's studies), Honorable Mention
Victoria Schuck Award (on women and politics), American Political Science Association.
Ceremonia decernării titlului Doctor Honoris Causa va avea loc în data de 25 mai, de la ora 11, în Aula Magna a Universității Babeș-Bolyai. Laudatio va fi rostit de conferențiar univ. dr. Marius Lazăr, Facultatea de Sociologie și Asistență Socială.